Reception / Waiting Area
Our lobby is open and bright with a large
waiting area that includes several items for your comfort.
 *Complimentary
coffee, tea, hot chocolate and water.
Television with DVD player
* Floor "Play Cube" for children
to play with while waiting.
* Large retail room to browse.

Exam Rooms
We have four exam rooms for faster service.
They have a fold-up exam table to give you
plenty of space while waiting for the technician
or doctor. Each room also has seating
and magazines for your comfort.

 Emergency Entrance
Consultation / Exam
Our clinic has an Emergency Entrance on the
north side of the building for those issues that do not need
to come through the full view of other lobby guests.
This is a multipurpose room for your convenience.
* Euthanasia / Bereavement
* Contagious Disease * Consultation

Surgery Suite
Our surgery suite has all the amenities and monitoring systems
to ensure your pet has the safest experience possible.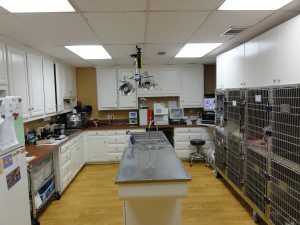 Treatment / Lab Area
This area has all the equipment to
run in-house diagnostics including fecal, cytology and bloodwork.
There are kennels and equipment for monitoring surgery
and critical care patients and we have a special treatment table
for dental procedures.
Digital X-Rays
Body &

Dental
Our new, state of the art, digital radiograph
machine offers views of your pet in seconds.
View x-rays more comfortable then ever in our
private exam room with a viewing station.

Refreshment Station
Lakeshore Animal Clinic – Boarding & Grooming
LakeshoreVet@gmail.com
Facebook/LakeshoreAnimalClinic
940-497-PETS (7387)
Fax 940-497-7390
5004 S. Stemmons Freeway / P.O. Box 1316
Lake Dallas, Texas  75065
Management Services Provided By Lakeshore Animal Clinic, Inc.
Happy to serve the Lake Cities, Texas area
including Lake Dallas, Hickory Creek, Corinth,
Shady Shores, Denton, Lewisville and
anyone else that wants to make the drive!