Lakeshore Animal Clinic




Veterinarian, Boarding & Grooming



Lake Dallas, Texas
You have heard the saying!
"If you are not happy – tell us;
and if you are happy – tell someone else"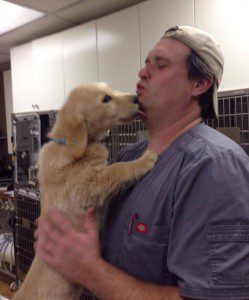 We would appreciate your recommendation, as an existing client, of
Lakeshore Animal Clinic – Boarding & Grooming
to your friends and family.  Please click on the link below,
print the form, fill in your name and give to anyone you know
that is in need of veterinary care, boarding or grooming.
In return, when we receive the form from the new client,
they will receive 25% OFF their first visit and we will send you a coupon
good for 15% OFF your next visit to Lakeshore Animal Clinic.
Just follow the detailed instructions below.
As always, we appreciate your continued business.
Instructions for Existing Clients
Write your name and client number on the bottom front of this card.
Make copies if you would like.
Give a card to someone who Is in need of quality veterinary care and not currently a client (their name and/or address cannot be in our database).
After the card has returned to us with the new client, on their first visit, we will send you a Thank You card with a 15% off your next visit.
Bring your Thank You card on your next visit to redeem your 15% off.
Thank you very much for your referrals.
Lakeshore Animal Clinic – Boarding & Grooming
LakeshoreVet@gmail.com
Facebook/LakeshoreAnimalClinic
940-497-PETS (7387)
Fax 940-497-7390
5004 S. Stemmons Freeway / P.O. Box 1316
Lake Dallas, Texas  75065
Management Services Provided By Lakeshore Animal Clinic, Inc.
Happy to serve the Lake Cities, Texas area
including Lake Dallas, Hickory Creek, Corinth,
Shady Shores, Denton, Lewisville and
anyone else that wants to make the drive!